Braided hairstyles for black kids not only provide a neat and tidy appearance but also offer protection to their natural hair. Over the years, braided hairstyles have evolved, with numerous trendy options available. Here are the latest black braided hairstyles for kids:
Box Braids: These are individual plaits that are usually divided by small squared-off parts or boxes. Box braids can be of any length or width.
Cornrows: These are tight, three-strand braids weaved close to the scalp. Cornrow designs can be simple, straight lines, or intricate geometric or curvilinear patterns.
Twist Braids: These are easier and quicker to make than some of the other types. Two sections of hair are twisted around each other to achieve this look.
Ghana Braids: Also known as feed-in braids, these start fine at the hairline and gradually get thicker, creating a cascading effect.
Crown Braid: This hairstyle involves a braid that goes around the head, much like a crown. It's perfect for special occasions.
Braided Ponytail: Gather the braids into a high or low ponytail. This is a fun and sporty look.
Beaded Braids: Attach colorful beads to the ends of the braids for a playful look. This is especially popular among younger kids.
Fulani Braids: Inspired by the Fulani ethnic group, this style includes thin to medium size braids that are braided close to the scalp with patterns and designs, often with a central braid running down the middle of the scalp.
Lemonade Braids: These are side-swept cornrows, usually braided to the right side. They became popular after Beyonce rocked them on her "Lemonade" album.
Mohawk Braids: The sides of the head are either closely shaved or braided down, leaving a strip of hair in the middle which is styled in various ways, often with added beads or cowrie shells for embellishment.
Bob Braids: These are just like box braids but cut and styled like a bob hairstyle.
Layered Braids: Different layers of braids, often with beads or other embellishments, create a tiered look.
Triangle Box Braids: Instead of the typical square boxes, the sections are triangular.
Zig-zag Braids: Cornrows that are braided in a zig-zag pattern.
Double Bun Braids: The braids are gathered into two buns at the top of the head, creating a cute and chic appearance.
Remember, while braids are protective and stylish, it's essential to ensure they aren't done too tightly to prevent hair breakage or pain. Regular maintenance, moisturizing, and gentle care will ensure the child's hair remains healthy.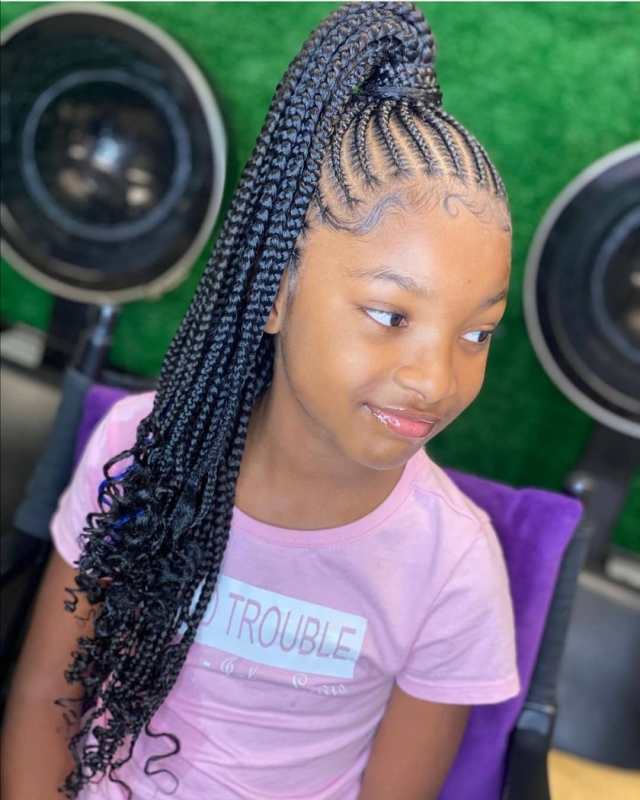 In such situations, braid hairstyles for kids really come in handy. They're very easy to make and require lesser time than normal braids for adults. Braid hairstyles is like an African peoples thing and so they are very much perfect for African kids too.
There are some advantages to the different braid styles for kids. Braids in general are considered as protective hairstyles because they protect the hair from the harsh environment, so they are perfect to protect your child's hair. They also help to retain hair moisture and prevent hair loss, so you see your kids hair is safe with braids.