Beads take any hairstyle from basic to wow. This is no different for kids braided hairstyles.
Braids allow you to keep your child's hair neat and saves you any extra time taken to prep their hair in the morning.
With braids, all you'll have to do on a busy school morning is oil their hair.
Whether your little ones are getting fulani braids, box braids, cornrows or a braided up do, beads will make the hairstyle more interesting.
Today's article features 50 different braided hairstyles for little girls with beads.
If your child is tender headed or can't stay still long enough to get their hair braided, check out these easy natural hairstyles for kids  or watch the video below.
Know what's better than one, two or three beads? A lot of beads.
Choose different types of beads, strings, bows and braids accessories to ensure that your kids' braids stand out.
Kids braids preparation
Before you take your child to get braided. Wash their hair using a shampoo and deep condition it.
Stretch or blow dry their hair and use an anti itch spray on their scalp.
Remind the stylist to avoid braiding too tightly on the roots and edges to prevent hair damage.
If your child is getting braided using their own hair, you won't need braiding hair.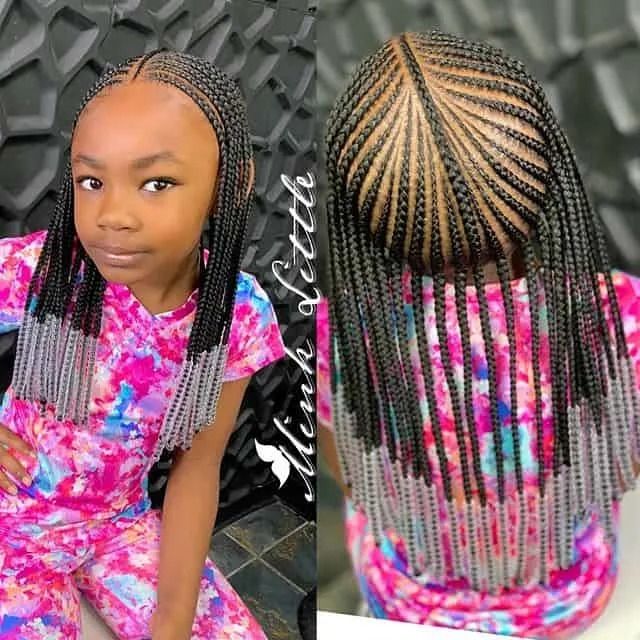 If they're using braiding hair, buy kanekalon braids or your stylist's recommended type of hair.
The beads and bows can either be bought at your local beauty supply store or Amazon.
Your stylist might also have these decorative pieces on sale at their salon at an extra fee so be sure to inquire about it.
Kids Braids with Beads Hairstyles